Trees, Doves and other things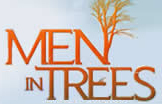 We just got the word that the network TV show "Men In Trees" (ABC) is using our song "Better Don't Do" in an upcoming episode for the new season (woo hoo!). We don't know exactly when it will air but it is supposed to be fairly soon.... when we find out we'll let you know.
Also, stay tuned for a new ing song called "Dove" to be released shortly (with a video we made!). It is complete and mastered, we're just getting onto the Net now.
More soon...
:-)